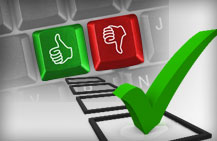 When we sit down to develop a new website for a client, our conversation always begins with the goals of the company. Nine times out of ten, those are marketing and sales goals – they want to generate more leads and get more customers. As a result, our first conversation revolves around the marketing message which of course is driven by who the target customer is. All too often, this becomes a guessing game. Many companies simply don't know, unequivocally, who their target customer is and what their primary needs and primary concerns are. Here's a simple exercise than you can do that will net great benefits in the areas of brand, marketing message and target market.
Craft a simple survey, call 10 current customers and ask them if they'll participate. You should pick a variety of customers – some old, some new, som big, some little. The survey should be short, informal and conducted over the phone as opposed to asking them to fill something out. Asking customers to fill out an online or printed survey can be very useful but it's a different exercise. Conduct an online survey when you are trying to measure something, like what percentage of people are interested in a particular product or service offering you are considering. In that case, you need a lot of respondents to be statistically relevant.
On the other hand, in this simple marketing survey, the objective is to speak to a smaller sample of customers and get some inside information – the kind of things they may not have told you up front. You may need to probe and prompt a little, which is why it should be conducted on the phone or in person. The focus is to really understand their motivation for using you. If you are going to construct a better message to your target market, you need to speak TO that target market and find out what makes them tick. What problem were they trying to solve (their primary need)? What were their major concerns or obstacles? Here's a sample of generic questions you can customize for your own use.
Why did you decide to buy our product or service in the first place?
What was the problem you were trying to solve?
What concerns did you have about making the purchase?
What do you think makes us different from our competitors, ie, why do you like us better?
Each of these questions can lead to other questions during the conversation. Don't hesitate to follow-up and ask questions related to their answers. In other words, have a dialogue.
Take good notes, you'll want to refer back to them later. Once you've completed the survey, put together a statement that answers the above questions generically. Summarize all the respondents answers and come up with a concise set of answers. This will become the basis of your website intro text, sales page, landing pages and other critical content that's involved in conversions.