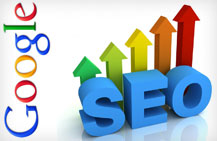 As part of our series on basic search engine optimization (SEO), let's talk about how to measure your SEO efforts. A key metric is how you rank for each keyword you are targeting. Are you on the first page of search results? Are you in the top 3? Are you moving up in the results over time or are you moving down?
The most basic way to track your ranking is to do a search in Google and then count where you rank. If you are on the first page, you are at least in the top 10. If you are half way down the third page, your ranking is 35. Most people agree that if you aren't at least on the first page then your ranking is meaningless, however, it still can be useful to see whether your rank is getting better or worse over time.
The problem with this basic way of tracking your ranking is that Google can mislead you terribly due to a new feature called "Personalized Search". If you find that with little or no SEO effort, you are suddenly ranking #1 for a particular keyword, you may have been fooled by personalized search. Here's how to figure out what's going on…
When you use Google, it places a cookie on your computer so it can track your behavior when you search. If you do a search for "plumbing supplies", then click through 4 pages of search results and click on a link to ABC Plumbing, Google records that behavior. The next time you do a search for "plumbing supplies" or some related term, Google is likely to place ABC Plumbing in the #1 position because it believes that particular link is more relevant to you since you've clicked on it before.
The problem is, no one else sees ABC Plumbing as ranking #1 for "plumbing supplies" unless they have done the same exact search you did and clicked on the link to ABC Plumbing. Therefore, the way you are seeing the Google search results is different from the way most other people in the world are seeing it. Google has been doing this for a while but most people aren't even aware of it.
As a result, if you are doing SEO ranking research, it's easy to think that your efforts are producing much better and faster results than they actually are. How do you see what your real ranking is? You need to either turn off personalized search or use some type of 3rd party service that produces ranking results for you.
To turn off personalized search, see this tech note from google: https://support.google.com/websearch/answer/4540094?hl=en.
Clearing cookies will turn personalized search back ON for Google, so make sure to reset this if you clear your browser cookies.
While it's useful to sometimes check your ranking for a keyword or two just by doing a search and seeing where you fall in the results page, if you are tracking a number of keywords over time, it's easier to use a 3rd party keyword tracking tool. There are a number of keyword tracking tools, both free and paid. There aren't any in particular that we would recommend, however if you search for "keyword tracking tool", you will find a ton of them. Let us know if you find one you like!